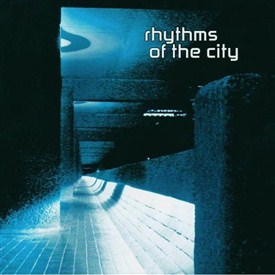 Rhythms of the City - Rhythms of the City -
F-IRECD26 (2008)
buy now

Rhythms of the City (Ritmos da Cidade) is the beating heart of London's creative jazz community, the F-IRE Collective. The bateria (Brazilian samba percussion section) is joined here by Australian salsa team Son Veneno, presenting a mix of the expected and unexpected, carnival style.
It began in London in 1999, growing out of the Akwaaba drum orchestra, one of the first community projects of the F-IRE Collective. We adopted Brazilian carnival music as a practical way of having one music in which a large number of people could learn, participate and play alongside one another – and the shared experience was in part used to bind our forming creative community. Over the years many musicians and dancers have been through the project, learnt at its workshops, performed in carnivals and on stage, made friends... left, as their lives have taken them away from London ...started their own bands, taught others... come back… and the music has gradually and continually progressed to incorporate inspiration from near and far.

PERSONNEL
RHYTHMS OF THE CITY
Barak Schmool
repinique, saxes, tamborim, shakers & bells, reco-reco, triangle, atabaque, surdos, all arrangements, keyboards, backing vocals
Bosco de Oliveira
lead vocals, berimbau, backing vocals
Maurizio Ravalico
lead vocals, backing vocals
Xavier Osmir
lead vocals
Christiane Santana
lead vocals, backing vocals
Mystro
all vocals
Sara Farina
lead vocals, backing vocals
Jean-Christophe Jacquin
lead vocals, backing vocals
Phil Stevenson
electric guitar, cavaco
Stefano Kalonaris
7 string guitar
Francesc Marco Sendon
caixa, keyboards
Laurie Blundell
caixa (all tracks) backing vocals
Alex Gould
caixa
James Gardner
tamborim
Hammadi Rencurell Valdes
surdos
Amy Lu
backing vocals
Donald Bradby
cuica
SON VENENO
Cesar Marin
bass, backing vocals
Martin Farrugia
trumpet
Mike Raper
trombone
Danny Pliner
keyboards
Lautaro Veloso
vocals
Steve Marin
backing vocals
Live interludes from ROTC (full community line-up), guitar solo by David Preston.




TRACK-LIST
| | | | |
| --- | --- | --- | --- |
| | | | |
| 1 | | El Preso (Julio 'Fruko' Rincon) | 6.27 |
| 2 | | Riva (João Bosco de Oliveria) | 5.11 |
| 3 | | Astral (Cabana / Norival Reis) | 6.21 |
| 4 | | Ilu Aye (Claudio Martins / Gustavo Di Dalva) | 3.55 |
| 5 | | Aguanile Bonko (Jesus 'Chucho' Valdes) | 4.38 |
| 6 | | Rua Brasileira (João Bosco de Oliveria) | 4.13 |
| 7 | | Beco da Vida (João Bosco de Oliveria) | 3.19 |
| 8 | | ROTC (Mystro / Barak Schmool) | 4.42 |
| 9 | | RESPECT (Otis Redding) | 3.27 |
| 10 | | Aldeia de Okarimbé (Aloysio / César Veneno / Naval) | 7.05 |

LINER NOTES

This album is a studio recording of music that RotC has taken live to performances from 2005-2007. Inspired to make a closer connection to the mixed population of London, we started performing more music that was not originally played on Brazilian instruments... this is part 1 of the experiment, it has certainly been fun making it, We are joined on the album by some of the many of the friends we have made on the journey. Present by force are Son Veneno, arriving in London from Sydney in 2006 and serendipitously introduced to us by Australian film-maker, Cristina Dio (who also, as a student, instigated the formation of the aforementioned Akwaaba drum orchestra), they brought a spirit that has not left us since their return to Oz.

The tracks: El Preso / Aguanile Bonko are classics of the salsa world, from Colombian bandleader Fruko and Cuban pianist Chucho Valdés respectively. Ilu Aye / Aldeia de Okarimbé are classics of Rio's samba world associated likewise with Portela samba school and Neginho da Beija-Flor, Astral's samba funk popularized by Bahian songstress Ivete Sangalo. 'ROTC' was created for this CD by Mystro & Barak Schmool. Godfather of UK's samba scene Bosco de Oliveira wrote Rua Brasileira / Riva (originally titled Respeito - respect) leaving that selfsame-named anthem penned originally by Otis Redding.


THANKS
Thanks once again to our friends and families, also...

…all other performers who have shared in the RotC experience over the years,
most especially IianPattinson, Tamara Arom-Hobbs, JP Courtney, Hanna Rice

…the teachers who have informed our community at the many F-IRE samba workshops since 2002:
Joe Hanson, Jean-Christophe Jacquin, Jérome Boumendil, Bosco de Oliveira,
Jonas Oliveira, Marquinho da Dona Geralda, Celso Alvim, CA Ferrari, and all our
friends in Monobloco.

…our Collaborators in costumed dance performance:
Charles Beauchamp and Julieta Rubio of Mandinga Arts, Flame Latin Dance, Mariana Whitehouse, Hannah Bates, Samara Reis, Rosana Pereira, Edmilson Souza

…Thames Festival, Southbank Centre, Guanabara, Continental Drifts, Stephanie Knibbe,
and the multitude of venues that have hosted us around the UK and Ireland.

…our supporters City University music department, Royal Academy of Music

…all audiences and participants at our events

REVIEWS
Jane Cornwell, Songlines Magazine
"ROTC, a careering, squeaking in-your-face mix that makes you proud to be a Londoner. Visionary stuff."
Chris May, www.allaboutjazz.com
"It's a stew alright, a fragrant and nourishing one packed with joyful melody and life affirming rhythm, with an authenticity all of its own."
worldmusiccentral.org
"There's a celebratory spirit that kicks in at the start and never lets up"
...It is truly a London thing: influences of many rhythmic communities of our capital represented in street sound – funk, reggae, motown anthems, classic sambas and even salsa.

TECHNICAL INFO
| | |
| --- | --- |
| Engineering | Tim Burns |
| Editing, Jiggery & Pokery | Tim Burns, Barak Schmool, Maurizio Ravalico |
| Mixing | Demus (2,4,6,7,9) Tim Burns (1,3,5,8,10) |
| Mastering | Roland Clarke |
| Artwork / Design | Octavio Neto |
| Photography | Danielle Coore |
LINKS
www.rhythmsofthecity.com
www.veneno.com.au/