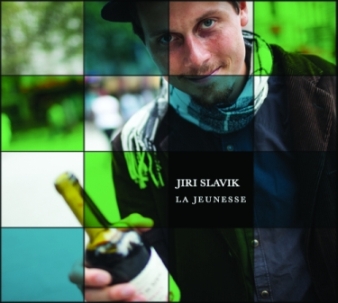 La Jeunesse - Jiri Slavik - F-IRECD69 (2014)
buy now

La Jeunesse is Jiri Slavik's debut album as a composer and a conductor. At its origin lies an idea to assemble a large ensemble of young London and Paris jazz musicians and put them in a strict chamber music setting, where nothing is improvised. Since all the notes are written, the music can deeply explore principles of counterpoint and give each musician the chance to be a soloist as well as a team player.

Thanks to the multicultural background of the album's participants, La Jeunesse touches upon pre-existent genres that have been assembled over years of living abroad in different cultures and synthesizes them into a shape of its own invention. The main detectable influences evoke the work of personalities such as Duke Ellington, Igor Stravinsky, Kurt Weil, George Russell, Glenn Gould, The Beatles or even Radiohead, all the way to the music of J. S. Bach.
As the title suggests (La Jeunesse meaning Youth), this music is altogether "juvenile" – full of exaggeration, overstatements, clichés, carelessness, but also of spontaneity, humour, or a particular sense of worry that arise through entering the chapter in life.

PERSONNEL
| | |
| --- | --- |
| Jiri Slavik | double bass, church organ, conductor |
| Barak Schmool | conductor |
| Tiffany Alexis | flute |
| Ben Davis | cello |
| Joe Zeitlin | cello |
| Alex Bonney | trumpet |
| Antonin-Tri Hoang | alto sax, clarinet and bass clarinet |
| Dave Shulman | bass clarinet |
| Zhenya Strigalev | alto sax |
| Tom Challenger | alto sax, bass clarinet |
| Zac Gvirtzman | tenor sax, accordion |
| Ben Moorhouse | guitars and vocals |
| Francesc Marco | piano, electric organ, accordion, perc. |
| Fred Thomas | piano, percussion, acoustic guitar |
| Jim Hart | percussion |

TRACK-LIST
| | | |
| --- | --- | --- |
| 1 | Ouverture | 4.05 |
| 2 | Bourée | 5.19 |
| 3 | Nocturne | 2.56 |
| 4 | Procession | 4.38 |
| 5 | Harlequins | 3.18 |
| 6 | Traveling | 3.41 |
| 7 | Ants on the Moon | 4.00 |
| 8 | Serenade | 3.21 |
| 9 | No More Traffic | 2.03 |
| 10 | Waltzertanzer | 3.28 |
| 11 | Pass The Ball | 2.21 |
| 12 | Identity | 1.14 |
| 13 | Saudades | 5.19 |
| 14 | Time | 3.07 |
| 15 | September | 5.07 |
all compositions by Jiri Slavik


THANKS

My profound gratitude goes to all the musicians and friends who gave their best to make La Jeunesse sound and look the way it does. In particular, I would like to thank Barak Schmool for providing the space, without which it would have been impossible to record live. Above all, I am deeply grateful to my parents and sister whose unconditional support has been essential in the making of this album.


TECHNICAL INFO
| | |
| --- | --- |
| Recorded at | City University, London, Sept 2011 - Apr 2012 |
| Engineering | Tim Burns and Alex Bonney |
| Editing | Jiri Slavik |
| Mixing | Jiri Slavik and Alex Bonney |
| Mastering | Djengo Hartlap |
| Artwork | Jim Glover |
| Graphics and Photography | Janos Chiala |

LINER NOTES
The idea of making a record in the form of a personal musical diary (in this case for the period between 2006-11) had been on my mind for several years before I actually started to make it happen. In the process of imagining the sounds, writing the score and eventually turning it into a musical reality I experienced some of the most joyful moments of my life so far. It was a tough, but also a very enriching period of continual learning and discovery. Now, after almost four years of work, I feel happy as a kid knowing that this music finally exists and is out there to be shared with you!

La Jeunesse is dedicated to everyone I crossed paths with during those years; a rich mosaic of individuals appearing in all possible roles, situations, distances and durations, each of whom interacted with me and left an important mark. Every track on the album tries to capture a different chapter of this unique story, which was a privilege to experience and which I hope will naturally lead into the next period, waiting to be explored.

"Identity" is a fader mix of the Czech, English, French and Italian national anthems.

"Time" features speeches by Winston Churchill, Barack Obama and Václav Havel. The siren sound in "Time" was recorded on Hradčanské náměstí, Prague, on the 23rd December 2011 at Václav Havel's funeral.

Besides "Identity,"all music is played live, except for the church organ on "Procession," which was recorded in St-George-In-The-East church in Shadwell, London on August 1st 2012 and subsequently overdubbed.



LINKS