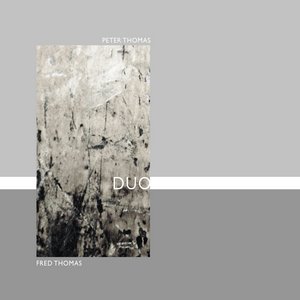 Duo - Peter Thomas & Fred Thomas -
F-IRECD91 (digital-only) (2015)
buy now

Peter and Fred Thomas, father and son, have finally come together to record a duo album of classical music they love. In celebration of Peter's seventieth birthday, this is a record of their musical bond, nurtured over a lifetime.

Their varied program is devised not only to juxtapose composers in flattering ways, but also to suggest links: Webern adored Schubert and orchestrated several of his songs in his youth; Schnittke may well have been thinking of Beethoven's charming Alberti bass-lines when composing his roguishly mocking Suite in the Old Style; Morton Feldman mischievously mused, "for years I said if I could only find a comfortable chair I would rival Mozart"; and Stravinsky wanted to banish the operas of Strauss to "whichever purgatory punishes triumphant banality".

This humorously and provokingly assembled collage of music is held together by its huge significance to the performers and by the towering and all-seeing figure of Johann Sebastian Bach.

PERSONNEL

| | |
| --- | --- |
| Peter Thomas | violin |
| Fred Thomas | piano |
| | |
| guest | |
| | |
| Eduardo Vassallo | cello |
TRACK-LIST
1

Mozart: Violin Sonata No. 32 in Bb major, KV 454,
- Largo - Allegro
6:36

2

Feldman: Piece for violin and piano
1:51

3

Mozart: Violin Sonata No. 12 in G major, K27,
- Andante poco Adagio
5:02

4

Webern: Four Pieces, Opus 7,
- 1. Sehr Langsam
1:04

5

Schubert: An den Mond, D.259
1:20

6

Schumann: In der Fremde, Opus 39
2:15

7

Schubert: An Sylvia, D.891
1:15

8

Strauss: Morgen!, Opus 27
4:28

9

Stravinsky: Valse pour les Enfants (arr. Fred Thomas)
0:52

10

Gibbons: Fantasia à 2, No. 1
2:21

11

Mozart: Minuet in D, No. 6, K355 (arr. Fred Thomas) 
1:21

12

Schnittke: Suite in the Old Style
- Pantomime
3:23

13

Beethoven: Violin Sonata No. 5 in F Major, Opus 24,
- Allegro
7:12

14

Mendelssohn: Piano Trio No. 1 in D Minor, Opus 49,
- Andante con moto tranquillo
7:12

15

Bach: Sonata in G, BWV 1021,
- Adagio
4:52

16

Bach: Wenn wir in höchsten Nöten sein -
Partita BWV Ang. II 78, IV (arr. Fred Thomas)
0:47

17

Webern: Four Pieces, Opus 7, 4. Bewegt
0:59

18

Mahler: Rückert-Lieder
- Ich bin der Welt abhanden gekommen
6:56

19

Bach: Nun lob, mein' Seel', den Herren (Chorale)
2:08

Recorded @ Ruddock Hall by Alex Bonney


LINKS
www.fred-thomas.co.uk